Do you want to know about VPNs and how exactly VPNs protect you and keep your activity anonymous? Why it is so important to have a VPN? Say with us. In this article, we will describe the VPN in detail.
Don't want to read full article. Here is a Quick Summary
Quick Summary: What is VPN | Why do we require VPN and how to use it?
VPN is a virtual private network that protects you while browsing the internet and hides your only activity by hiding your actual IP address. What can VPN do for you?
Unblock Streaming Sites: You can unblock the streaming sites like Netflix, MX Player, HBO Max, Hulu, Aha Video from anywhere using a VPN. You can unblock other sites that are not accessible in your country.
Stay Safe & Anonymous Online: In today's era, it's very risky to browse the internet. Hackers can steal your information because every website you visit has your IP address and location. A VPN hides your actual IP address and location. Using a VPN, you are hidden from everyone. Anyone can't track your online activity.
How to Use a VPN?
Subscribe to a VPN provider. We recommend ExpressVPN(Save 49% + 3 Months Free on 1-year subscription plan).
Download and install a VPN app for your device.
Open VPN app and sign in with the details
Choose a VPN server that is desired and connect.
Now browse the internet without the fear and enjoy regional content from anywhere.
ExpressVPN
Get 3 extra months free when you sign up for a 12-month plan with ExpressVPN. That's a saving of 49% with 30-day money-back guarantee.
This tool can hide your IP address and change your location. Additionally, it can boost your security and privacy while browsing the internet. Not to mention, a top-tier VPN like ExpressVPN can unblock other streaming platforms, like Hulu, HBO Max, MX Player, Netflix, YouTube TV, and many more.
Want more information on What is VPN and why we require VPN? Read our full guide.
Here, you will learn about VPNs (virtual private networks); how they work, their uses, and why should we require them. We will also list some of the best VPNs available in the market.
What is VPN
Virtual Private Network, or VPN, is not a new term for netizens they regularly use VPNs for things like unblocking torrent websites, watching online content, and staying safe and private online.
A VPN is also helpful for people who have to stay in contact with their office, even if they are
working from a different location.
VPNs are useful tools when you want to bypass geo-restrictions and use the internet for, whether for fun work. A VPN also helps protect your privacy and personal data from theft to keep you safe on the internet.
But how does a VPN do all this? How does a VPN work? We explain the workings of VPNs in
simple terms.
What Benefits Does a VPN Provide?
There are a variety of reasons why we should use a VPN. Some of the reasons are listed below.
1. Browse securely on public networks
It can be very dangerous to use a public Wi-Fi network. Hackers and other people on the same network can easily get access to your data and personal information.
You might want to use a VPN connection if you don't want other people to be able to see your email login, images/files, or credit card information.
When you use a public Wi-Fi network, the VPN encrypts all of your data. A hacker will only be able to see encrypted text and won't be able to see or use your personal information. So VPN is urgent to use while browsing on public networks.
2. Bypass geo-restrictions(Unblock streaming sites)
Many streaming services impose the restrictions on the internet. This is common with streaming providers that only have broadcasting rights in a few countries and not others. If you are on vacation or have relocated to a new country, you may be unable to access your usual streams.
A VPN unblocks such restrictions easily. You can gain access to websites or streaming services from a different country.
3. Say Safe and Anonymity online
Your IP address and location are visible to every website you visit. Hackers eye on you every time to steal your personal information like credit card information and passwords.
A VPN can hide your IP address and location. When you use a VPN, your internet traffic is diverted through a different server, and your online actions are no longer linked to your IP address or you personally, but rather to the IP address of the VPN server. VPN server assigns you a new IP address. This way you can browse the internet with more anonymity
4. Remove censorships
In many countries, governments heavily censor the internet. Countries restrict access to particular websites and online services. WhatsApp, Google, Instagram, YouTube, Skype, Spotify, and Facebook are just a few examples of programmes and websites that are frequently restricted.
The censorship in these nations has a significant negative impact on the inhabitants' right to free speech.
By enabling you to connect to a server in another location, a VPN can assist you in getting around censorship and restrictions.
You can use this method to access the internet as if you were in a different nation. You will be able to access websites and services that are unavailable in your home country in this way.
How do VPNs work?
Every device that goes online has an IP address. Your IP address reveals information about you and your device, including your location as well as your ISP.
A VPN changes your IP address virtually. Even if you don t need to change your virtual
location, a VPN protects your privacy by giving you a different IP address that can t be used
to identify you. However, a VPN can also be useful if you want to access online content from
another country.
When you connect to the internet using a VPN, all your internet traffic passes through the VPN
before it reaches you. The VPN becomes the mediator of your data.
If you connect to a VPN server location in another country, So, it seems that you are sitting in that country and using their internet there. Since the VPN gives you a new IP address for the country you are connected to, geo-restrictions are all but gone.
A good VPN will also encrypt all your data using AES-256 bit encryption.
If anyone tries to intercept and steal your data, all they will receive is meaningless strings of letters and characters.
So a VPN kills two birds with one single stone it bypasses geo restrictions and protects your
data and privacy. For users who value their privacy, VPNs are essential as a method to protect
their internet freedom and safely use the internet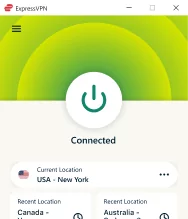 Special offer: Get 49% offer our recommended VPN
Get this exclusive ExpressVPN deal. Get 3 extra months free when you purchase a 12-month plan. That's a saving of 49%!
Why do you need a VPN for Gaming?
Online multiplayer games are on the rise. What started as a hobby; has become a career path for many people. People spend hours playing games to earn their living, and maybe make a name for themselves.
They love to games with other better players to improve their game. But geo-restrictions sometimes do not allow them to join in regional rooms of any other country. It is when using a VPN app that helps them.
Using the VPN, they can pass these restrictions and play games on foreign servers with minimum lag. It allows gamers to improve on their game and make their name in the gaming community.
Why do you need a VPN for torrenting?
Torrenting refers to a huge network of people who download files from each other's devices.
Sometimes, the files people want to share are quite large, so you need to make sure you have unlimited bandwidth and optimum speeds.
The speed is dependent on how many people are sharing that same file. Torrenting is also used to download movies, software, TV shows, games, etc.
Some countries have blocked torrenting websites. But a VPN can cross geographical
boundaries and allow users to access torrenting websites from countries where they work.
VPN for Unblocking geo-restricted content
Everyone loves to watch content on streaming platforms. Since the pandemic, online streaming of shows has become one of the most popular pastimes.
But here's the problem. Every country has its own media laws, which online streaming platforms have to follow. As a result, some content gets blocked in some countries.
This may include popular and critically acclaimed shows. To stream this content, people turn to VPNs. A VPN allows them to watch content that is available only in specific countries.
By changing their IP address, they change a device's virtual location and find their way around the geo-block.
Why do you need a VPN for Business
Working never stops for some people. Even if they are away from the office, they need to stay
connected with their office; sometimes, they even have to work remotely.
Large companies work on their private network. They have their network set up in their offices
around the world, and they have to keep these offices interconnected.
A VPN helps companies to set up this web. One main router acts as a VPN client, and other routers in offices become the repeaters. Employees have to log into this private connection to access the company's network.
Steps to use a VPN?
The language and workings of a VPN may sound very technical, but using one is incredibly simple. All it takes is a few taps to make your device secure. Here's how you can set up a VPN on your device in minutes.
Buy a subscription to your preferred VPN service. We recommend ExpressVPN because of its amazing features and ease of use.
Install the app on your device.
Connect to a server location in your desired country.
Use the internet without restriction.
Best VPNs for torrenting, streaming, gamers, and Netflix
Now we know how to use a VPN. Let's talk about the VPNs available in the market. If you look in the app store or on the internet, you will find hundreds of different VPNs. Some might even be free.
As tempting as they may seem, it is never a good option to use a completely free VPN on your
device. A VPN is supposed to improve your security, but free VPNs take that security away from you. Some may log your data or sell it to make a profit, or compromise your security by not encrypting your data.
A paid VPN encrypts your data before every transfer and makes sure that there is no leak in their servers. You should also make sure they have a no-log policy when it comes to acitivity and connection logs.
Unlike a free VPN, a paid VPN should not reduce your speed. Instead, you can enjoy unlimited
bandwidth and a lag-free experience. It may cost you a bit more, but it's worth it not to compromise your digital privacy. Here is a list of the best VPNs for you, as reviewed by us
ExpressVPN – Editor's Choice
ExpressVPN's features at a glance
Connect to servers in 94 countries.
Unblock Netflix, Prime Video, Hulu, and more
Mask your IP address for privacy and anonymity
Download apps for all your devices, including Windows, Mac, iOS, Android, Linux, routers, and more
Use the split tunneling feature to select which device traffic you route through the VPN
No activity or connection logs
Bypass ISP throttling
Use 5 devices simultaneously
30-days money-back guarantee
Wide-ranging payment options including Bitcoin
ExpressVPN is the best option if you require a VPN that provides excellent security as well as military grade encryption.
Thanks to their strict policy of no activity or connection logs, your data is never stored and no other party can request access.
Thanks to their strict policy of no activity or connection logs, your data is never stored and no other party can request access.
OpenVPN, L2TP IPsec, and IKEv2 protocols are used by ExpressVPN. These are popular for
being the most reliable and safe security protocols. But ExpressVPN also has its own proprietary VPN protocol called Lightway, which is used by default in most cases for its superior speeds, reliability, and security.
ExpressVPN has server locations in 94 countries, with high speed servers offering speeds of
up to 100Mb/s. It enables you to stream Hulu, Amazon Prime Video, Netflix, Disney+ and many
more in ultra HD streaming quality.
ExpressVPN also provides you with a 30-days money-back guarantee so you can easily get a full refund in case you find it doesn't live up to expectations (we're pretty confident it will though!).
If you do run into any problems, you can contact their Support Team via live chat, which is
available 24/7.
49% off
Exclusive deal: Get 49% off
Get 3 extra months free when you sign up for a 12-month plan with ExpressVPN. That's a saving of 49%!
NordVPN Review
NordVPN's features in a glance
Fast and secure Internet
Strict no-logs policy
Enjoy uninterrupted full range streaming
5200+ servers in 60 countries
Connect up to 6 devices
Onion Over VPN – Combine NordVPN encryption with the anonymity.
Multi-factor authentication
Kill Switch will make sure your data will not be exposed.
Split tunneling support
Get a Dedicated IP address
Mask your IP
CyberSec to avoid Block ads and malware
Lightweight Browser extensions for Chrome, Firefox, and Edge
No data leaks
Stream sports live from official channels
Unblock Netflix, Prime Video, Hulu etc
30 days money back guarantee
It provides you with a high-security level and surety of zero IPv6/ DNS leaks which makes it one of the best and most used VPNs among the long list of VPNs available in today's time. It could also provide you with Onion over VPN in case you require more security.
What makes it more attractive is that six connections at the same time are provided on each of the subscriptions in addition with the Netflix streaming.
This VPN is known to be the all-rounder VPN with the availability of high-speed internet and reasonable price.
It has a simple UI which makes it very easy to use even for beginners. It is popularly used to unblock the contents which are geographically blocked in platforms like Hulu, Amazon Prime, Netflix, Disney, etc.
One of it's best qualities is the guarantee of 30 days for returning back the money which makes it riskless. Incase you do not like the app after trying it, you could easily get 100℅ refund.
CyberGhost Review
CyberghostVPN's features in a glance
7700+ VPN servers worldwide
AES 256-bit encryption
DNS and IP leak protection
Automatic kill switch
OpenVPN, IKEv2, WireGuard® protocols
Strict No Logs Policy
Unblock Netflix, Prime Video, Hulu etc
Connect Up to 7 devices protected simultaneously
Apps for Windows, macOS, Android, iOS etc
45-day money back guarantee
Cyberghost VPN is available on Mac, Windows, Android, Linux and iOS. It has as many as 7,700 present in more than 110 locations. It is featured with zero-logging. You can have up to 7 connections.
It is an excellent option if you want a VPN for torrenting. Even though it has several impressive features, it does not get any complicated to use.
As soon as you first use it, you will know why we recommend it for torrenting. The VPN is feature to configure itself automatically for the purpose of delivering the best possible torrenting experience.
With CyberGhost, you will escape fussing with protocols. You will not have to test and try to find the best P2P technology. CyberGhost is aware of exactly what you like and wish to do, therefore, it will work in accordance.
The "Torrent Anonymously" option would make you feel more ensured of your safety and privacy. One of the most appreciated features of CyberGhost is it's App Protection. It also has an incredible connection speed.
Surfshark Review
SurfShark VPN's features in a glance
3200+ servers in 65 countries.
Protect you from ads and malware
Hide your location and IP Address
Protect you on public Wi-Fi
Avoid internet restrictions while travelling
Unblock Netflix, Prime Video, Hulu etc
Use on unlimited devices
Browse internet securily
30-day money-back guarantee
24/7 customer support
Like most of the other best VPNs available in the market today, SurfShark also provides its users with privacy and security while using any of its services.
For providing secure services all the data/information is made to pass through an encrypted tunnel which helps the users in hiding their traffic from being spied on or hacked by any third party. The speed while using all it's services is really good.
It offers no-logs services so that all the internet activities of the users are kept completely anonymous and secure.
It's services are available to be used on several platforms to make its use convenient for the users. It can also be installed on smart devices (example smart Tvs) or gaming devices.
IP Vanish Review
IP Vanish VPN's features in a glance
2,000+ Servers in 75+ Locations
Uncrackable internet security
Unblock Netflix, Prime Video, Hulu etc
Unmetered Connections
Get a 100% refund within 30 days
IPVanish VPN Protocols – WireGuard, IKEv2, OpenVPN, L2TP, IPSec
24*7 support with live chat and email
This VPN provides a very safe and secure environment to the users for performing everyday internet activities.
When the users establish a VPN connection with IPVanish all their online traffic including video streaming, browsing, file sharing, messaging etc. passes through the encrypted tunnel of the VPN. A VPN hides the actual IP address.
It allows the users to anonymously browse the internet and access safe connections, no matter where the users are present physically.
The customer support of IPVanish is available 24/7 through email, live chat and support centre for helping the users with any kind of issues.
It ensures there is no interference to the user's connection from ISPs. And also prevents spying and snooping while the user is connected with any public wifi.
Faqs
What is VPN?
A VPN is a virtual private network that connects your computer to the internet in a safe, encrypted tunnel, offering a private tunnel for your data and communications while using public networks.
Why do I need a VPN?
A VPN secures your connection and conceals your IP address from corporations, government agencies, and would-be hackers. A VPN secures your identity even if you use public or shared Wi-Fi, and it keeps your data hidden from prying internet eyes.
Who needs a VPN?
Everyone wants fast internet, but those who prioritise downloading, streaming, or gaming will find a VPN to be a highly useful tool. When selecting a server to connect to, keep in mind that the closer you are to your new server, the faster your internet connection will be.
Is VPN legal to use?
Yes, using a VPN is legal. We recommend ExpressVPN is best for security and unblocking streaming platforms
Do I need a VPN on my mobile?
Yes, you can use a VPN on any mobile device. It's very easy to use a VPN on a smartphone.