Are you an avid PUBG player? Were you unable to play PUBG when some countries blocked it? How can you unblock PUBG and play in other countries' servers at the same time? In this article, we will help you unblock PUBG using a VPN.
How does VPN help in unblocking PUBG? What purposes does a VPN serve, other than unblocking? Can you play with players from different countries using a VPN service?
These are some of the things that come to every PUBG player's mind. We will take these queries up in this article and try to answer them.
How to use a VPN for playing PUBG?
Now that most of your concerns and doubts about VPN are clear, we can move forward with how to use VPN to play PUBG.
Choose a VPN. ExpressVPN(Get 49% off + 3 Months Extra Off) is our top pick if you want to access PUBG.
Install and run the VPN app.
Select the VPN Server where PUBG is not banned like in the US.
Install PUBG on your device.
You are ready to play.
How can you unblock PUBG by using a VPN in the blocked region?
The Best VPN allows you to Unblock PUBG from anywhere in the globe. In this article, we will show you how to unblock PUBG in countries where it is not available.
Step 1: Subscribe to a VPN
We recommend ExpressVPN(Get 49% off + 3 Months Extra Off) because it has the capacity for unblocking PUBG in the blocked region.
Step 2: Download and Install VPN App
Download and Install the VPN app for your device.
3. Connect to a VPN Server
Log into your VPN app and connect to server locations in the US. Just follow the steps which are shown in the below image.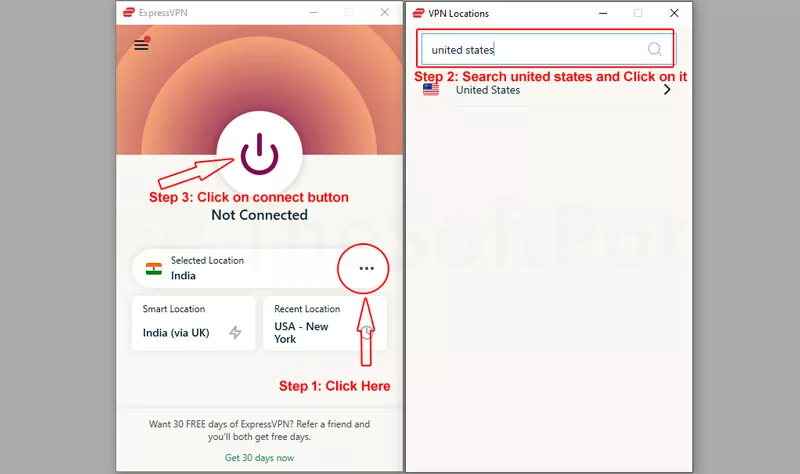 Step 4: Head to PUBG
Open the PUBG application or the website to play the PUBG game. You can now play PUBG in a blocked region.
VPN and PUBG
PUBG or PlayerUnknown's Battlegrounds, an online multiplayer game, was released in 2017 for computers and XBOX. Krafton Inc., a South Korean video game company, developed the game. By 2018, it was available for mobile devices like Android and iOS and gaming consoles like PlayStation 4.
The game was downloaded more than a billion times worldwide by more than a billion people by March 2021 and sold more than 70 million copies by 2020. It quickly became one of the highest-grossing, most-played, and best-selling games around the world.
People soon started building their online gamin careers in PUBG and PUBG Mobile editions. In November 2017, Intel conducted a PUBG event with prize money of $200,000. Twenty teams participated, with four players in every squad.
Between June and September 2020, the Indian government banned 59 apps with connection to China. The ban came under Section 69A of the IT Act 2000.
Many famous and widely used apps, like TikTok and Bytedance, were banned permanently. PUBG was on the list of banned apps. This unexpected ban was hurtful for both the players and the publishers of the game since India had a large fanbase of PUBG.
India released its version of the game, called FAU-G or Fearless And United Guards, but PUBG fans quickly rejected it, owing to its gameplay and laggy interface. Even though it looked like PUBG, it could not bring the same experience as PUBG to people.
As people still wanted to play the game, they started using loopholes. VPN was the most apparent and simplest loophole. They downloaded VPN apps to keep playing the game in India and anywhere it was blocked.
Since VPN changes the IP address of the device, it becomes virtually impossible to track it. Also, it can connect you to the servers where the game is still available, so playing PUBG in India was once again possible due to VPN.
Why ExpressVPN is the best VPN To Unblock PUBG in a blocked region?
Unblocks PUBG Easily.
High-Speed VPN Servers in 94 countries across the globe.
Also unblocks popular streaming services like Hulu, BBC iPlayer, HBO, ESPN, YouTube.
Strict policy of not collecting activity or connection logs
Easy-to-use apps for Windows, Mac, Android, and iOS
Advanced features like Threat Manager, TrustedServer
Connect up to 5 simultaneous connections
30 days money-back guarantee.
General Details:
ExpressVPN is one of the best premium VPN for PUBG. It has high-speed VPN server locations in 94 countries across the globe which are optimized for speed and security.
It provides easy-to-use apps for Windows, Mac, Android, and iOS, as well as platforms that other VPN companies don't support, like Linux, Android TV, Amazon Fire TV, and routers. It also provides browser extensions for Chrome, Firefox, and Edge.
It offers up to 5 simultaneous connections. With a single VPN subscription, up to 5 devices can be connected simultaneously. You do not need to purchase a separate VPN subscription for each of your devices.
Privacy and Security
ExpressVPN maintains a strict policy of not collecting activity or connection logs, so your data will not be stored and no other party can request to access your data—making it completely private and secure.
It also provides the most advanced VPN server technology, TrustedServer, which wipes data on every reboot and Threat Manager protects your phone from malware and other suspicious
tracking apps.
OpenVPN, L2TP-IPsec, and IKEv2 protocols are used by ExpressVPN. These are popular for being the most reliable and safe security protocols. In advance, Lightway protocol offers greater speeds, security, and reliability, especially on mobile.
ExpressVPN takes user privacy seriously and was one of the first VPNs to remove their physical servers from India after the Indian government announced it would require VPNs to store and share customer data.
You can still get an Indian IP address by connecting to India (via UK) or India (via Singapore) servers, but you'll also get to avoid data collection.
Best VPN for Streaming
ExpressVPN can unblock any of the streaming services like Netflix(US & other country's libraries), BBC iPlayer, Hulu, HBO Max, ESPN, Youtube, MX Player, and Voot from around the world and provide blazing-fast speeds easily.
It provides MediaStreamer that can unblock streaming services on devices also such as Apple TV, PlayStation, Xbox, and smart TVs that cannot run any VPN.
Customer Support
ExpressVPN provides excellent customer support with 24/7 live chat support and risk-free 30-day money-back guarantee.
Special offer: Get 49% off ExpressVPN when you purchase a 12-month subscription. They'll give you 3 extra months free!
Advantages of VPN for Gaming
The advantages of VPN do not stop at just unblocking games. There are more advantages of VPN which help you with gaming, such as:-
Anti Swatting
Since PUBG is a battle royale game, it is natural for players to feel an adrenaline rush. What isn't normal is taking it out on the players. Angry players can track the IP addresses of other people to cause harm to other players.
Sometimes it can turn into swatting – an act where someone reports fake emergencies on your location. VPN hides your IP address to save you from this kind of harassment.
Stops Throttling
Most data packs from Internet Service Providers come with a data usage limit. As soon as the limit is over, the connection speed drops significantly. It is called throttling.
There are more causes for throttling, like decongesting the connection. VPN hides your IP from your ISPs too, which means they cannot track your data usage, and thus stopping throttling.
IP Banning
Sometimes, knowingly or unknowingly, players can violate the terms and conditions of the game. As a result, the moderators of the room or servers can temporarily ban the IP address of players.
Since VPNs like NordVPN have a vast network of servers, you can connect to a different country's server and play again. Although always keep the rules of the game in mind.
Geo-restrictions
To get famous in PUBG or any other online game, you have to play on different countries' servers. Since most games have geographical restrictions, playing in other countries can be difficult.
Using VPN, you can connect to any country's server by getting an IP of that country. It makes playing in other countries simple.
Safety
WiFi offers better speed than mobile data connections. Connecting to a public WiFi offers high speed at the cost of security. Since the connection is not encrypted, hackers can attack your network and steal the data.
Conclusion
After considering all the pros and cons of VPNs, Express VPN emerges as the clear choice of VPN for playing PUBG. With some protocol, a giant network of servers, and interactive UI, it is the best choice for a gaming VPN.