Do you want to delete Snapchat account permanently or deactivate the account as long as you want? We will describe you in detail step by step.
Everyone in today's time is aware of the fun that comes with Snapchat. It has made capturing memories so much more exciting and fun. The fun lenses, filters, and stickers that you can use to add effects to your memories add life and enjoyment to your captured memories.
Nevertheless, if for some reason you would like to take an action and go off the cloud of Snapchat, you have got two options. You could either deactivate your account for as long as you want and retrieve everything back when you are ready, or you could choose to delete your account permanently.
Follow below steps to deactivate or delete snapchat account permanently easily.
Warning: App developers, ISPs, and telecom companies can track, record, and sell information about every click, share, and download. Only a VPN, such as ExpressVPN, can shield you and stop these other parties from obtaining and selling your private information.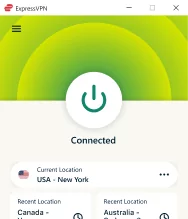 Exclusive offer
Get 3 extra months free when you sign up for a 12-month plan with ExpressVPN. That's a saving of 49%!
Why you may choose to delete Snapchat account?
Snapchat is an amazing social networking site that is popular because of the pride it takes when it comes to the privacy of its users. A large number of users were disappointed and questioned about the site not reacting to the Cambridge Analytical scandal in which the data of a lot of Facebook users was harvested.
The users were very shocked to see the silence of such a big platform which promises a lot about the security and privacy of users. Another thing making this case worse is that it is known that Facebook has been copying a lot of features from Snapchat and this might mean that there are high chances of danger to Snapchat users when it comes to their privacy.
Snapchat keeps adding new features according to the changing wants and needs of the users. Various new features were added in April 2019 which included a feature named App Stories. Through this feature, the users can directly share anything from the camera of Snapchat to any other app's story.
Given that Snapchat data is supposed to be temporary, this raises privacy concerns. Because how can this be true if websites like Tinder and Facebook are able to access it? How to make sure that the Cambridge Analytical scandal case will not be repeated?
This article will teach you how to delete your Snapchat account completely, which will help you regain some of your online anonymity.
Difference between deactivating and deleting a Snapchat account
After you have completed the process of deleting your account, your account will be inactive for 30 days. Throughout this period, you should keep your username and password safe in case you decide to change your mind and reactivate your account.
People who are a part of your friend list won't be able to connect with you on Snapchat or get in touch with you during the deactivation period of 30 days.
Log in using your username and password to reactivate your Snapchat account. Your email address cannot be used to access a deactivated account or to change the password. You should remember that it can take 24 hours for your deactivated account to become active again.
Your Snapchat account will get permanently deleted after 30 days of deactivation, along with your settings, Snaps, Stories, Chats, location data, and other account-related items. For security, legal, or financial reasons, Snapchat may keep some personally identifying information in its primary user database.
How to store your data before deleting your account?
You might like to save a backup of your Snapchat data before you completely erase it. You will require a valid email address for the purpose of doing so. To get your data in, simply adhere to these easy steps:
Step 1: Select "My Data" after signing into your personal account at accounts.snapchat.com.
Step 2: The "Submit Request" link is located at the bottom of the webpage.
Step 3: Once your data is prepared to be retrieved, an email having a link would be delivered to your authorized email account.
Step 4: Open the provided link to access your data for download.
Step 5: A ZIP file with the name "My Data" will include your data when it is delivered.
A detailed guide on how to delete a Snapchat account
Step 1: Go to the accounts section of Snapchat.
Step 2: You will be allowed further only after you log in to your account. The 'Delete Account' page will appear when you click this.
Step 3: Click "Continue" after entering your login and password in the designated fields. You could now remove the app and your profile will be permanently wiped in 30 days after it is disabled.
Other ways of keeping your data private
If privacy is your only concern that is compelling you to go off the air of Snapchat then you must know that there are other ways you could preserve your data privacy. Do not let privacy concerns become the sole reason for you to isolate yourself from the rest of the world by having fun on Snapchat.
The best way of making sure that your anonymity, cyber security, and privacy are not compromised while you are busy having fun on Snapchat is to make use of a VPN.
What a VPN does is that it acts as a shield of protection between you and the rest of the world on the internet. However, using any VPN would not be enough for achieving the purpose, you must make sure that the VPN you are using is strong and reliable. Experts always suggest using ExpressVPN.
Conclusion
Every platform you access, every application you visit, as well as every gadget you purchase in our world captures your personal information. Online data has become a precious resource in the digital era, making it more crucial than ever to protect your privacy.
You might be thinking if using social media platforms is worth the risk is given the recent controversy surrounding their privacy policies.
You can prevent yourself from getting indulged in any of the potential risks by using a good and reliable VPN such as ExpressVPN.